Welcome
---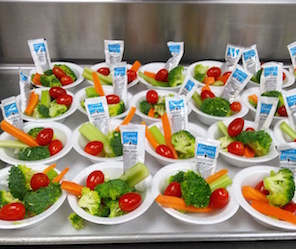 The new school year is in full swing and we want to let you know that the Lincoln School Food Services program has some exciting things planned for your child's school cafeteria. Our job is to make sure that we serve healthy, well-balanced meals and that our students enjoy what they eat. We are looking forward to a great year ahead, and we are very excited about the opportunity to make your child's dining experience at the school cafeteria a memorable one. The School Lunch Program begins on the first full day of school. Lunch will be served in grades K-8 each Monday, Tuesday, Thursday and Friday (full days) at a cost of $3.00. An 8 -ounce milk or juice may be purchased for $.50. Menus are published before each month and are available in your schools' weekly newsletter, from your child's classroom, and by accessing the Lunch Information link to the left.

Computerized Lunch Sales System
The Lincoln School Food Services program has implemented the NUTRIKIDS® electronic lunch sales system to increase the level of service and provide accurate school meal accounts. The electronic system replaces the old ticket system with computerized meal accounts accessed through secure PIN numbers. Prepaid milk service and any a la carte purchases will be included and processed on this system as well. The Lincoln Schools Food Service is pleased to provide parents a convenient, easy and secure online prepayment service through a web site called www.MySchoolBucks.com. This service allows parents to deposit money into your child's school meal account online at any time, and provides the ability to view your child's account balance. We strongly recommend parents/guardians deposit money into the student's account via MySchoolBucks.com. Parents may also send a check payable to the "Town of Lincoln."By having money in each child's account prior to entering the cafeteria, we find the lunch lines move along much faster so your child has more time to eat and be with friends. In addition, parents will have the ability to print out a copy of their child's eating history report. This history report will show you all dates and times that your child has purchased a lunch or any other items within the past thirty days. Please see the link at the left for more information on the NUTRIKIDS system.
National School Lunch Program
The school will provide free and reduced price lunches to eligible children. Reduced price lunches are $.40 each. Information about this program, including eligibility criteria and application procedures, is included in this Website. PLEASE NOTE: Families approved for free and reduced price lunches last year must complete a new application for your family by October 1, 2014 if you wish to continue in the program for the FY2015 school year. Please contact the school office for additional free and reduced meal application forms,The Nutrikids computerized POS system will also handle the accounting for the free and reduced lunches. If your child has qualified for free or reduced meal prices, this information is noted in the system, and the meal will be processed just as it is for all other students without any overt identifications. Parents/guardians will be able to deposit money into the student's account for reduced prices lunches and a la carte items via MyNutrikids.com.

Offer vs. Serve Policy
Requires the lunch staff to prepare complete menus offering all five-(5) meal components. Students are encouraged to take the complete meal for optimal nutritional value, but may decline one-(1) or two-(2) components if they choose. A minimum of three-(3) meal components must be served in order to qualify as a school lunch. Dessert does not qualify as a component.
In accordance with Federal law and U.S. Department of Agriculture policy, this institution is prohibited from discriminating on the basis of race, color, national origin, sex, age, or disability. (Not all prohibited bases apply to all programs.) To file a complaint of discrimination, write USDA, Director, Office of Civil Rights, Room 326-W, Whitten Building, 1400 Independence Avenue, SW, Washington, DC 20250-9410 or call (202)-720-5964 (voice & TDD). USDA is an equal opportunity provider and employer.
---
Buckner Creel

Administrator for Business and Finance