LPS Portrait of a Learner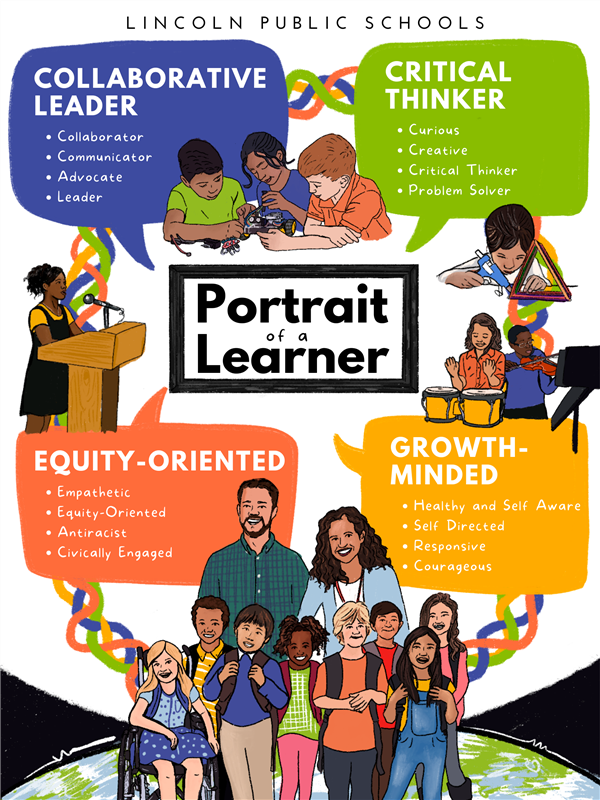 Learn more about each Portrait of a Learner trait:
A Portrait of a Learner (sometimes referred to as a Profile of a Graduate) is a document that specifies the cognitive, personal, and interpersonal competencies that students should have when they finish attending a school or district. The portrait makes visible the priority goals for teaching and learning so that all staff, students, and families can align their collective efforts.

Our process for developing our Portrait of a Learner began in earnest in the 2019-20 school year when we began leading workshops in Boston, Lincoln, and at Hanscom for families, community members, staff, and students to explore (1) the purpose of school; (2) what young people need now and in the future; and (3) our vision for successful learning and growing in our schools. We gathered input through community forums, student focus groups, professional development sessions, and surveys -- ultimately receiving input from well over 650 stakeholders, including hundreds of hand-drawn portraits for us to consider.

Through the process, we realized that our portrait is not only for students, but also for all the adults in our schools. LPS's Portrait of a Learner is our vision for our district -- in terms of our culture and our outcomes. It has four main parts: we strive to be collaborative leaders, who are critical thinkers, equity-oriented, and growth-minded. Within each part are sub-components with further specific descriptors. Every element of our portrait comes from our community members and the values and hopes they shared with us. We feel affirmed by the presence of AIDE (antiracism, inclusion, diversity, and equity), social-emotional learning (SEL), and Deeper Learning throughout our portrait.
Last Modified on June 21, 2023